Virtual Scholastic Book Fair - Feria de Libros Virtual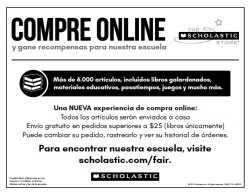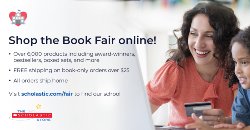 What

Virtual Scholastic Book Fair - Feria de Libros Virtual

When

9/16/2020, 11:00 AM

–

12:00 PM
Our school is hosting a Virtual Scholastic Book Fair from 9/15/20 - 9/29/20
The Virtual Fair is a fantastic way to get books in the hands of your students now to keep them reading at
home.
All purchases benefit our school and earn rewards
Shop Book Fair exclusives, best-sellers, skill-builders and more
Orders ship direct to home
Book-only orders over $25* receive FREE shipping
Over 6,000 items to choose from through the Scholastic Store Online
Happy reading!
♥ - Starlight Elementary School
*Free Standard Shipping is available on book-only orders of $25 or more, after all discounts are applied. Free Standard
Shipping (books) must be selected during Checkout. Orders containing products other than books are not eligible for
this shipping promotion.
***********************************************************************************************
Nuestra escuela está organizando una Feria del Libros Virtual de Scholastic del 9/15/20 al 9/29/20
La Feria Virtual es una manera fantástica de poner libros en manos de sus estudiantes ahora para que sigan leyendo en
hogar.
Todas las compras benefician a nuestra escuela y obtienen recompensas
Compre exclusivos de la Feria del Libro, más vendidos, desarrolladores de habilidades y más
Los pedidos se envían directamente a casa
Los pedidos de solo libros de más de $25* reciben envío GRATIS
Más de 6,000 artículos para elegir a través de Scholastic Store Online
¡Feliz lectura!
♥ - Escuela Primaria Starlight
* El envío estándar gratuito está disponible en pedidos de solo libros de $25 o más, después de que se apliquen todos los descuentos. Envío estándar gratuito (libros) debe seleccionarse durante el proceso de pago. Los pedidos que contengan productos que no sean libros no son elegibles para esta promoción de envío.
Copy to Google Calendar
•
Download iCal Event